2018 winners
Supreme award
Sponsored by Premier Digital
Ten Perfect Bound Book by Ripe Digital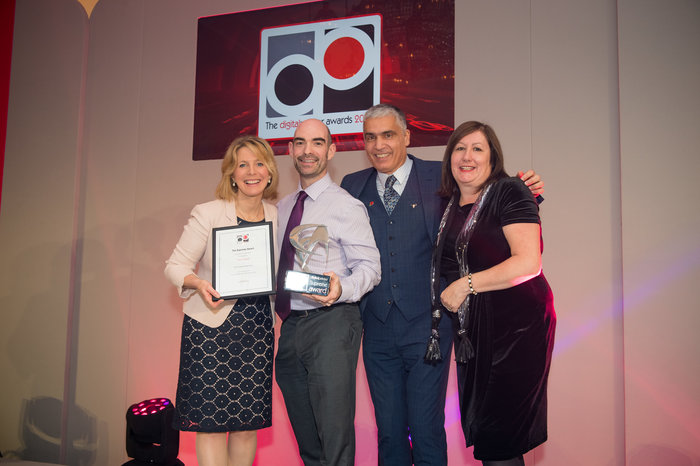 (L-R) Hazel Irvine, awards host, George Penny, account manager, Ripe Digital, John Vic, sales director – digital media, Premier Digital and Kelly Morris, sales director, Whitmar Publications
The judges said:  'A showcase of digital print across a number of substrates, demonstrating the art of the possible.'
Adding value
Sponsored by Compass Business Finance
School Art Club Automation by Harrier Print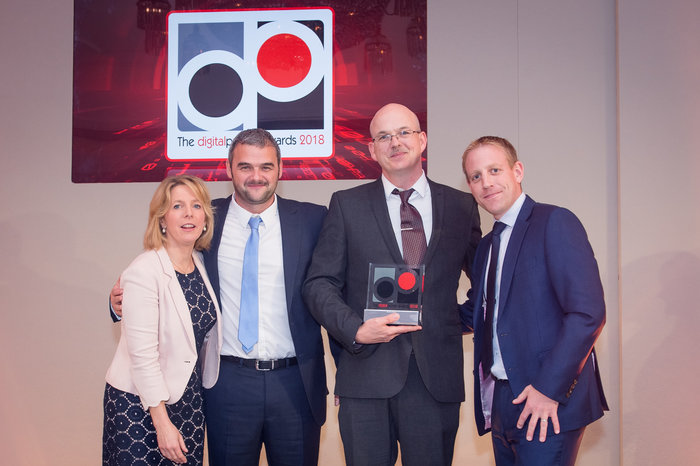 Carl Nickson, pre-press and automation workflow manager, Steve Frost, technical manager, Harrier Print and Jamie Nelson, director, Compass Business Finance
The judges said: 'Inventive and exciting pack that delivers awareness and engagement with target customers.'
Also nominated:
Impress Print Services for Packaging – Black Box
CTP Digital for Cheevers Howard
Ultimate Digital for Kids Ink.
Books
Sponsored by Friedheim International
Christy England Living Redefined by Gavin Martin Colournet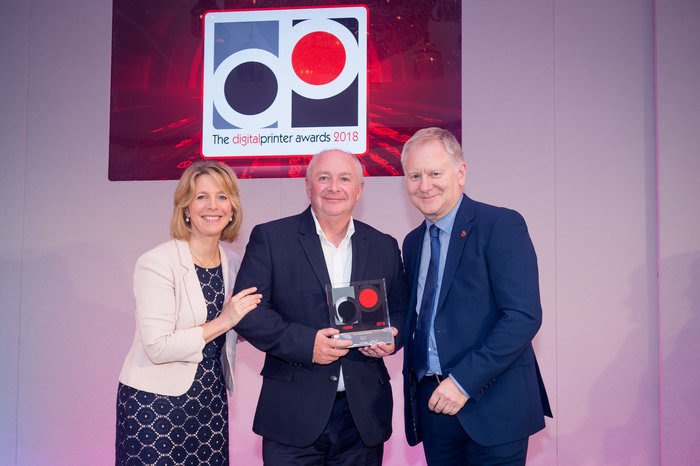 Phil Le Monde, sales director, Gavin Martin Colournet and Mark Bristow, managing director, Friedheim International
The judges said: 'A mighty fine book, shows the best of digital print with a great selection of stocks, good pre-press and great finishing.'
Also nominated:
Bonacia for Not Everything Sucks
Screaming Colour for Campaign Pop-Up Book
DG3 for Design Insight 2019 – The Alchemists
Rapidity Communications for The Dock
Creative use of substrates
Sponsored by Antalis
Formula E Race Series by Douglas.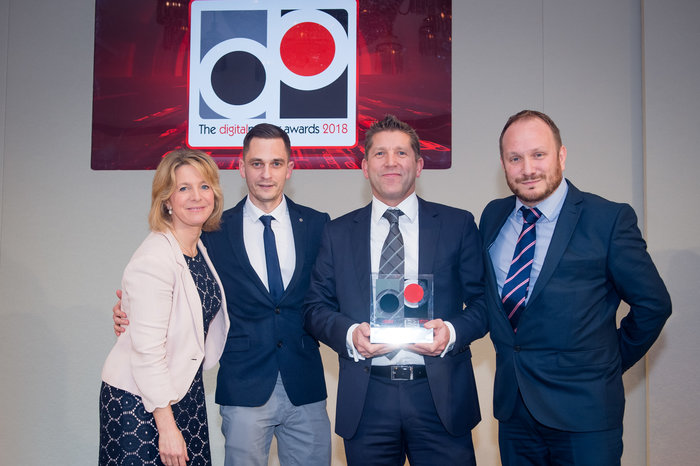 Aaron Taylor, head of branding and design, Mark Douglas, managing director, Douglas. and Jim Whittington, digital sales manager, Antalis
The judges said: 'An impressive range of digital printing techniques across a number of substrates including white toner on black and mirror board, hitting a brief to show what digital print can do.'

Also nominated:
DG3 for Greg White Booklets
The Bigger Printing Company for Office Wall Branding
Ripe Digital for Ten Perfect Bound Book
Environmental/sustainability company of the year
Sponsored by Ricoh
Generation Press by Generation Press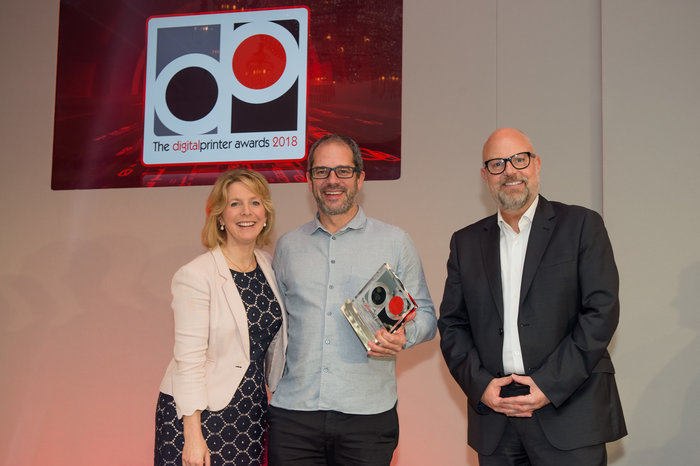 Paul Hewitt, managing director, Generation Press and Tim Carter, sales director, commercial print, Ricoh
The judges said:  'In a closely contested category, this printer shows an outstanding commitment to the environment. The judges were particularly impressed with this printer's exceptional work around carbon offsetting, recycling and employee schemes.'
Also nominated:
CS Labels
Impress Print Services
Paragon Customer Communications
Finishing
Sponsored by Duplo International
English National Ballet by Screaming Colour
Iain Moring, managing director, Screaming Colour and Colleen Hankin, head of UK sales, Duplo International
The judges said: 'Wow! Probably has every finish possible. Excellent work.'
Also nominated:
Rapidity Communications for BIG
Hardings Print Solutions for Top Flying Club Gold Member Bespoke Loyalty Pack
Cliftons/Newman Thomson for GTO Engineering
Eazyprint.co.uk for Polymark Corporate Gift Box
Innovation
Sponsored by HP
Beefeater Pink Scented Graphics by VGL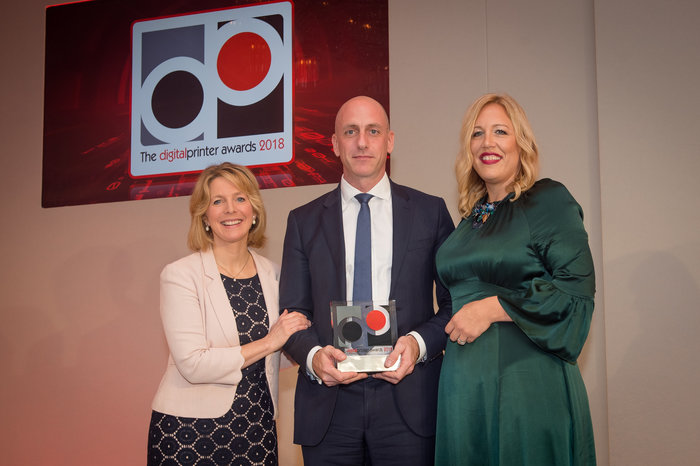 David Gray, managing director, VGL and Clare Revell, UK and Ireland commercial sales manager, HP Indigo
The judges said:  'Brilliantly executed concept, with automatic social media coverage.'
Also nominated:
Impress Print Services for Featherstone Brochure
Bonacia for Super Sid's Scrapbook
Ultimate Digital for Kids Ink.
Labels
Sponsored by Dantex Group
Portobello Road Navy Gin by The Label Makers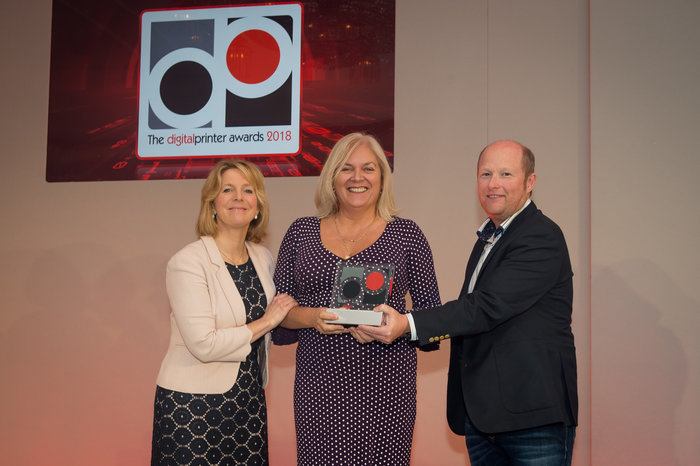 Zenna Parfaniuk, director, The Label Makers and Chris Smith, digital systems manager, Dantex Group
The judges said:  'An extremely well designed, attractive, technically impressive label.'
Also nominated:
CS Labels for NWBC – Trilogy
Harkwell Labels for Bude Brewery Beer Labels
Civette & Unicorn by Amberley Adhesive Labels
Mercian Labels for YO! Peel & Reveal Labels
Marketing collateral
Sponsored by Elliott Baxter & Company
Polymark Presentation Box by Eazyprint.co.uk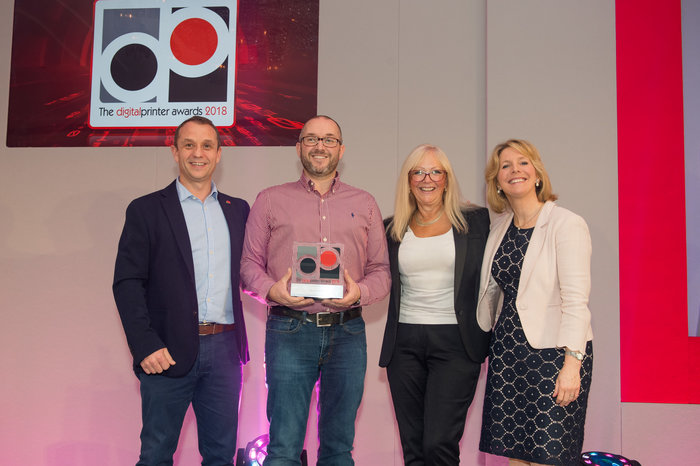 Chris Sandwell, sales and marketing director, Elliott Baxter & Company, Daniel Pretot, production manager and Janice Pretot, sales executive, Eazyprint.co.uk
The judges said: 'Wide range of print and finishing techniques, beautifully executed to deliver a highly engaging message. Showcasing the unique capabilities of digital print to educate the target audience about their product.'
Also nominated:
Park Communications for SODA Review Volume #1
Ripe Digital for Ten Perfect Bound Book
SME business initiative
Sponsored by Close Brothers Asset Finance
CS Labels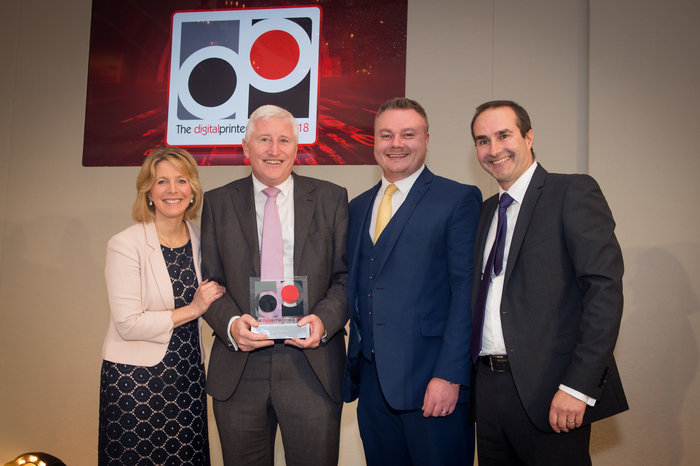 Simon Smith, managing director, Adam James, operations director, CS Labels and David Bunker, assistant managing director – print division, Close Brothers Asset Finance
The judges said: 'Clear five year plan that demonstrated growth in scale and profitability, developing the confidence to invest comprehensively for the future, including a new site. Very strong submission with good supporting evidence.'
Also nominated:
Northside Graphics
Bonacia
Harrier Print
Transactional and direct mail
Sponsored by Xerox
Top Flying Club Gold Member Bespoke Loyalty Pack by Hardings Print Solutions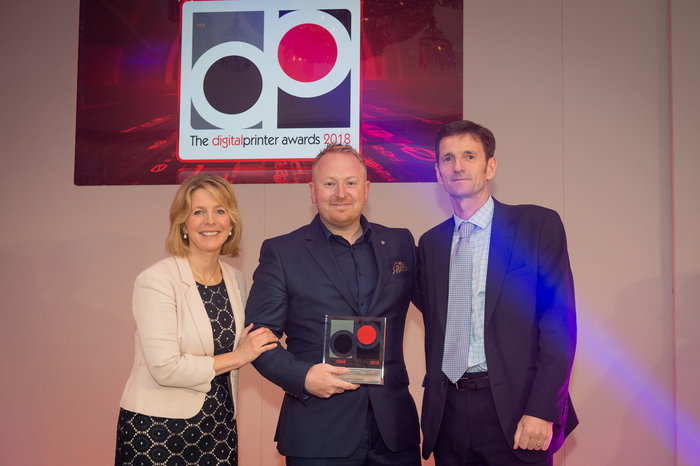 Geoff Stone, sales director, Hardings Print Solutions and Mark Cannons, director, graphic communications UK, Xerox
The judges said: 'This piece was a beautifully produced, premium product for a select high value audience. The judges were impressed with the design and quality of the piece.'
Also nominated:
Asia One Printing for Vacheron Constantin Video Card
Howard Hunt for Letter from Santa
Harrier Print for School Art Club Automation
Designed for digital print
Sponsored by oZZle
Ten Perfect Bound Book by Ripe Digital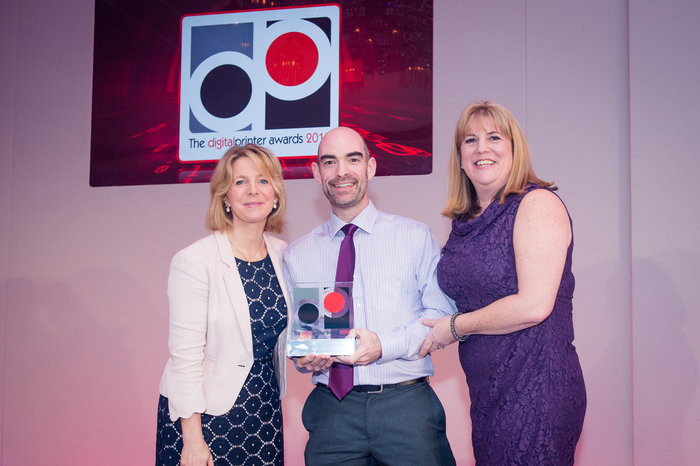 George Penny, account manager, Ripe Digital and Lindsey Pearson, managing director, oZZle
The judges said: 'A beautiful example showcasing a vast variety of digital printing techniques. Refreshing to see the transformation of creativity into digital print.'
Also nominated:
Douglas. for Volvo Ocean Race
CS Labels for Obelisk
The Label Makers for Snowdonia Gin
Variable data
Sponsored by Mondi
JMEPS by Colourgraphic Arts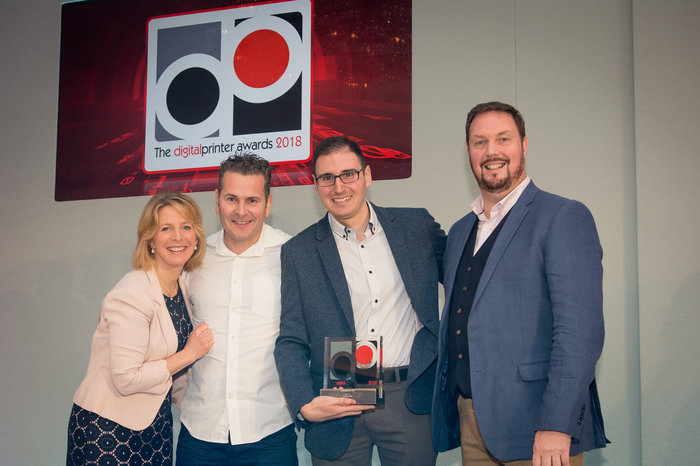 Dronz Arigho, production director, John Scardarella, director, Colourgraphic Arts and Brod Geary, high speed inkjet global sales director, Mondi
The judges said:  'The judges were impressed with how this printer overcame production issues to fulfil the clients requests with a 100% success rate.'
Also nominated:
Ultimate Digital for Kids Ink.
Harrier Print for School Art Club Automation
Howard Hunt for Letter from Santa
Wide and super-wide format
Sponsored by efi
Bristol Aerospace Museum by Kingswood iOptus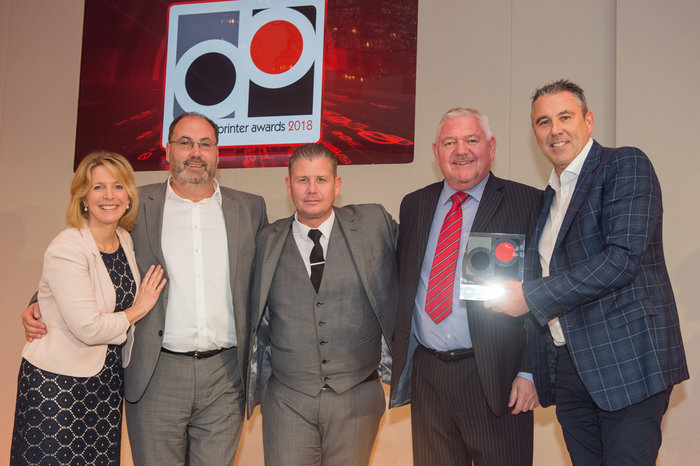 John Lidbury, production director, Kingswood Display, Alan Rigglesford, managing director, Kingswood iOptus, Terry Garvey, partner alliance director, EFI and Robert Long, group managing director, Kingswood iOptus and Kingswood Display
The judges said: 'Real impact delivered through clear collaboration and problem resolution.'
Also nominated:
Park Communications for Christie's/Audrey Hepburn
Eventus Branding for Babcock Critical Services/li>
Web-to-print
Sponsored by Digital Labels & Packaging magazine
digitalprinting.co.uk by Northside Graphics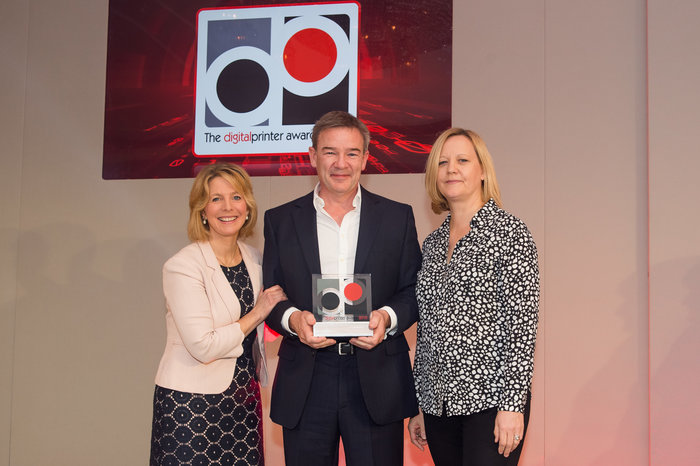 Neil White, joint managing director, Northside Graphics and Neel Madsen, editor, Digital Labels & Packaging magazine
The judges said: 'Clear, concise strategy to develop and implement web to print, including onsite customisation, which resulted in higher order value. Strong evidence of commercial success.'
Also nominated:
Howard Hunt for Race for Life
Bonacia for 3D Book Previewer
Ultimate Digital for Kids Ink.
Plastic Card Services for Plastic Card Hub